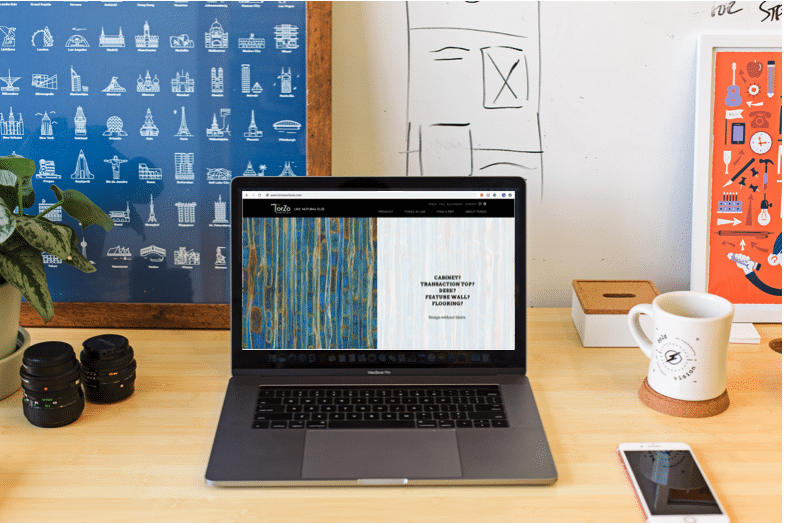 New TorZo Surfaces Website Showcases Versatility and 'Design Without Limits'
WOODBURN, OR — Architectural surfaces leader TorZo Surfaces has launched a new website, https://torzosurfaces.com, that presents designers with a dazzling range of surface colors and textures choices.
"The new site is a dynamic way to introduce designers to a palette of surface colors and textures with a versatility and vibrancy that's unlike anything the design community has seen," said TorZo marketing specialist Ben Estill.  "Plus, we show a variety of applications in leading-edge designs, and make it easy to order samples, spec a project and find a TorZo rep."
In all, TorZo's incredibly broad palette of substrates and color options results in 67 unique surface textures and colors, with all of the substrates sustainably sourced from recycled or salvaged materials ranging from hemp fiber to scraps or denim.  Through a process that infuses inert, non-toxic resins into these materials,  TorZo Surfaces produces a LEED-friendly and formaldehyde-free surface material with astonishing durability.
In the featured projects section of the site, TorZo presents a variety of ways designers have fulfilled their design vision with TorZo paneling, cabinetry, tabletop, furniture, and flooring applications.
In addition to projects featured by TorZo, a photo gallery is fed in real-time by designers' Instagram posts.   TorZo invites designers to have their favorite TorZo project posted to the gallery by using by using the hashtag #torzosurfaces.
Another section features TorZo's pre-finished options of flooring panels and tiles, innovative wall panel systems, and turnkey customized tabletops — with customized client-driven shape, size, pattern, color, edge detail and finish.
The website was designed and developed by Portland, Ore.-based East Bank Communications, which combines the traditional disciplines of brand building with cutting edge technology to help clients build relevant brands, and increase sales and company value.
A division of family-owned and -operated Specialty Polymers, Inc.,
TorZo Surfaces' history of innovation and evolution dates back to the 1980s.  After decades of research and development, TorZo Surfaces was Launched in 2008, and since then has become a leading manufacturer of sustainable and renewable LEED-quality interior architectural coverings, providing products of tomorrow to designers today.